This month our "Top Recruiter" is Star City
Thank you Star City for supporting SISU and offering our graduates jobs. Well done to ALL of our graduates who have been successful in finding jobs this month.
Social Impact Partners
We are excited to welcome the Rotary Club of Essendon, Australia. They will be supporting our Padauk Kids for the next year.
Class of August 2022
We said goodbye to our 'on-the-job' graduates in November. In the three months they have spent with us they have had real life work experience in a variety of roles across F&B, House Keeping, Sewing and Engineering.
New Recruits
Over the next 2 months SISU will be busy recruiting 200 new trainees.
To date SISU has recruited its trainees from Hlaing Thar Yar. However, this month our outreach has been extended to include Shwepyithar Township. 50 trainees will be enrolled onto our Entry Level Office and Hospitality programs.
SISU offers all of its trainees a holistic benefits package. Our aim is to shape all of our trainees to become more productive and valuable to their communities, their future employers and themselves.
On joining the training program the trainee is given access to health services, (including vaccinations and eye tests) and a hot, nutritious daily meal. To support their families they receive monthly financial support based on their attendance.
Padauk Kids
Over the past 12 months SISU has seen an increase in the number of children aged between 15 to 17 turning up to recruitment events. These children have missed a significant amount of learning with government school closures due to the COVID-19 pandemic and non-attendance due to the ongoing instability.
In Myanmar the minimum working age is 14 years old, however, most reputable employers will not employ staff under the age of 18. This age group Is caught between not being able to attend school and not being able to get a decent job. Because of this they have a greater exposure to exploitation.
SISU created the Padauk program to cater for these children. This is a 2 year program which provides non-formal learning / vocational training and English language skills. On turning 18, trainees are given the opportunity to join the Entry Level Office or Health Care programs.
"My name is Swe Thazin Oo. I am a trainee in the Padauk program. I was a student before I joined SISU. And I postponed my school because of covid cases. My dream is to become a healthcare aid worker assisting hospitals and clinics. The reason why I like the most about SISU is that there are many things to learn. SISU can help me to achieve my goals. I have learned new skills at SISU such as computer, English, Life Skills, numeracy, Health Care, and sustainability. I will go back to school when I leave SISU. After that, I will try to get a job."
GAP KIDS
Under Myanmar law, school is free and obligatory for children up to age 10 only. Children aged 10 to 13 have neither legal permission to work nor the requirement to go to school. Like the Padauk Kids, this makes them vulnerable to child labour and exploitation.
SISU runs the Gap Kids program for those aged 10 – 14. Every Saturday morning up to 50 children from the surrounding villages in Hlaing Thar Yar are collected and brought to the SISU Academy. Once there, they have a nutritious meal and the chance to learn and play in a safe environment.
Humanitarian Relief
In October we told you about the excellent work our volunteer trainees perform every week. Click here to support their program. Thank you
About Us
Established in 2016, Step-in Step-up (SISU) is a not-for-profit company based in Myanmar. We deliver tailored livelihood training courses (3-12 months) to local youths.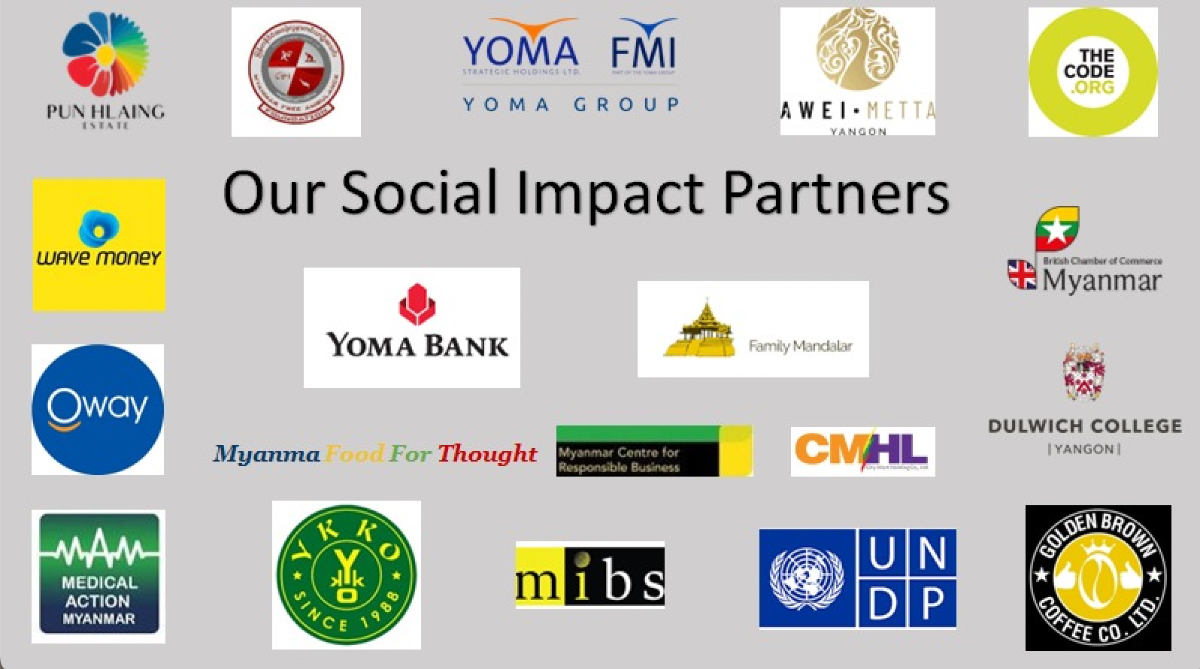 Keep connected with us!
Each month we will be updating you with all of our latest news, success stories and exciting new ventures. We hope you will join us on this journey as we continue to change the lives of our trainees.