Entry Level Orientation
The orientation programme is designed based on the successful placement of our interns. Our purpose is to:
Break down barriers
Raise retention rate
Build trust
Create loyalty
Orientation Programme
English lessons & SOFT SKILL training programme addressing common issues:
Basic hygiene and grooming

Why running away from a problem does not help

Dealing with rude or angry employers or customers

How to communicate with a supervisor

The importance of being honest
Building confidence before they begin can help with long term success
Most interns are now staying with their employers for a long time. Some examples of how many months they are still in the same company:
Supervisor Training
Enhance the performance of your crucial frontline personnel. Without good supervision from trained supervisors, it is unlikely that new recruits or entry level staff will be successful.
Diagnosing areas for improvement via managers, supervisors, employees, and HR
Discuss with HR what training has been received, and what works well/not so well
Tailor the training day to the needs of your company
Training Includes:
Goal Setting

Team Building

Personal Hygiene & Grooming

Professionalism
Addressing Common Issues:
Fear of job loss due to high performing staff
Raise ability to manage team
Understand the role of the supervisor vs staff member
Create loyalty
Build self-esteem
Corporate Housekeeping
A friendly, trustworthy team of housekeeping staff under the guide of a supervisor, provide high quality cleaning services for any type of cleaning needs.
Our team is reliable, presentable, pay close attention to detail and take pride in their work.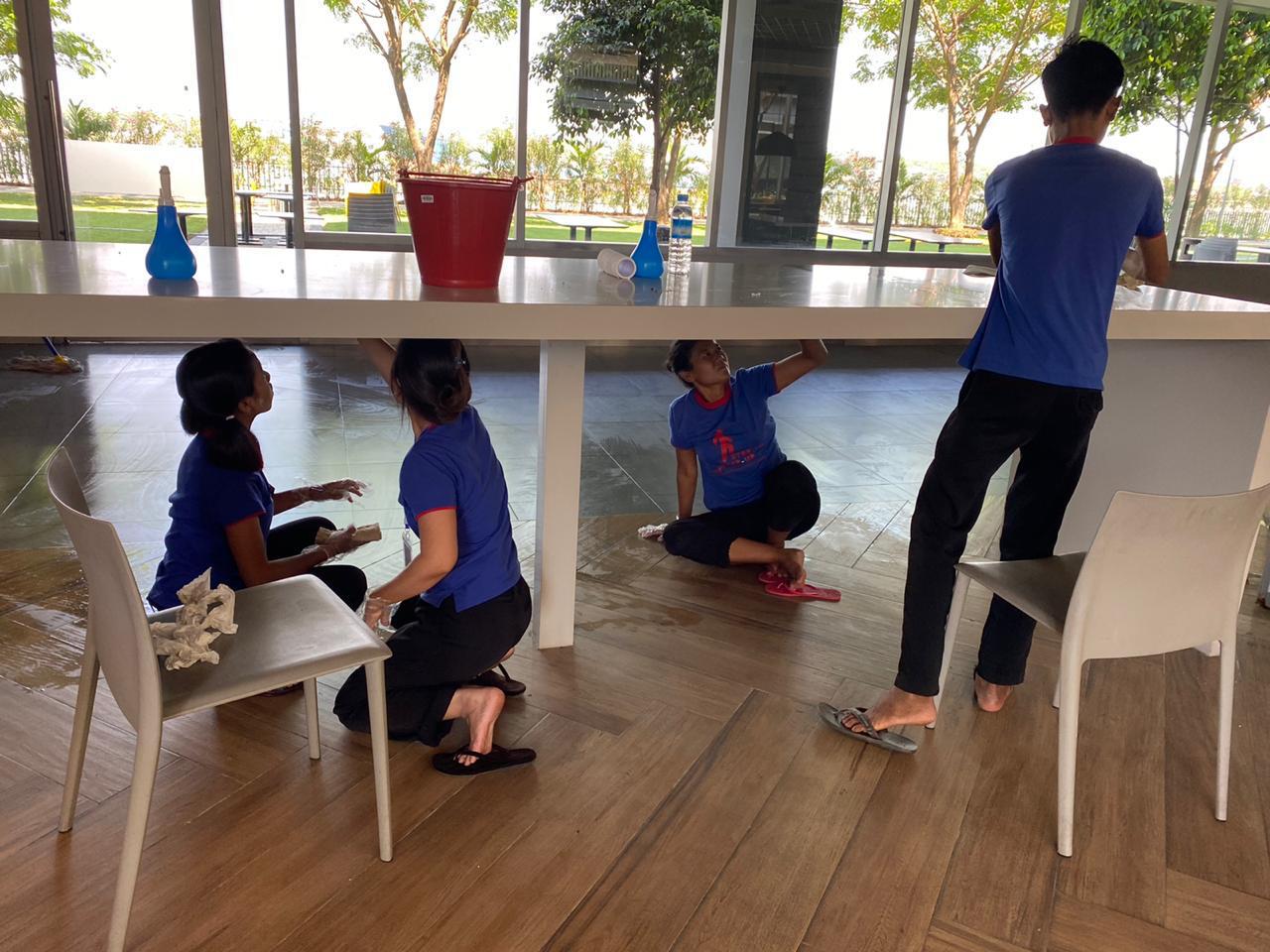 Domestic Helpers
Our domestic home helpers are highly skilled in cleaning and general housework
They are hardworking, friendly, and have been trained in hygiene, grooming and basic English.
We support their ongoing training with a team of translators and an internationally accredited First Aid & CPR Training Programme.
Testimonials from our Clients
Our Domestic worker was referred to us over a year ago from the Step-In Step-Up program and has since proven to become a valuable asset to our family and home.
Her Strength being her ability to be flexible yet maintain discipline, effective task performance, efficiency and productivity. – All owing to her exceptional work ethics and training she received from the Step-In Step-Up program.
She further more shows continuing growth, demonstrated by continuing support, Education and involvement in training programs from Step-In Step-Up.
I will not hesitate to employ staff from the Step-In Step-Up program again in the future and in fact have recommended several friends and business associates.
I have two lovely ladies working as domestic helpers in my house.
Both were trained by Step-in Step-up hands on training.
Thidar has been working for me for three and a half years and Lin Lin for two years.
Today they are confident with all that is required to run things smoothly in a household. Thidar is now a supervisor/ trainer and Lin Lin a trainer for any new ladies joining the Step-in Step-up program.
Their value and loyalty is absolutely priceless in my household!
Our Home Helper was one of the original girls that started in the Step In Step Up Program and has now been with us for about 2 years. Aye Thuzar is an absolute treasure and really has grasped and understands the fundamentals of what she was taught on the program.
From very humble beginnings, wanting to make a difference and assisting young people to find meaningful employment, the Step-in Step-up Program has now expanded and the facilities that are now on offer to train up and coming recruits is just phenomenal, all under the watchful eye and guidance of Jackie Appel.
This program has just grown from strength to strength and is a true inspiration of a humanitarian who really cares and wants to make a difference to peoples lives.